A regular fear I entertain, after every song I write, is: what if that's it, the last one? What if I've got no more music left in me after this?
But I'm nothing if not stubborn, and quite often I process fear by stomping into it face first, probably trying to punch it on the way. So in April 2019, I started dabbling in songwriting retreats, which present you with various tasks, challenges,and prompts. Honestly? I did not believe for a moment I'd be able to just write in response to a prompt or task. I ended up pleasantly surprised with the musical results as well as with a load of new friends
(pro tip: you can buy friends with pastries)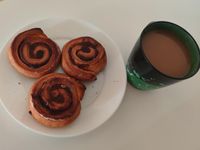 I've since been involved in various songwriting circles/ retreats/ workshops and every single time it is a great experience, so when I enrolled in the SongSeeds online songwriting retreat for November, I was pretty excited. Okay, sure- some minor trepidation about enrolling in an intensive 4 day workshop style thing a few short weeks before self-releasing my first ever single, but I know Rosie and Becci are great facilitators and they're both inspirational figures for me; I reeeally wanted to participate and I knew I could fit it in around work. Yes, ideal! Just fit it in around a full time job + a single release. That would be fine, right?
Narrator's voice: But it was not fine.
The inevitable perfect storm brewed up right as I was starting the retreat. I worked late, too late, joining the group 7 minutes after finishing my day job. When the first session began, I was a nightmare of frayed nerves and anxiety, already totally strung out. And... the group was absolutely lovely, everyone was really warm and open, and it felt like a really immediate rapport sprung up. Maybe this will be okay, I thought.
We got our first songwriting challenge, and agreed to meet up again after a set amount of time (90 mins? 2 hours? I can't remember). I also had to eat, though, because I'd skipped lunch that day, so I eventually sat at the piano with about 45 minutes left, and tried to silence the anxious static in my head long enough to write. 
Narrator's voice: Aaaaaaaaaaaaaaaahhhhhhhhhhhhhhhhhhh -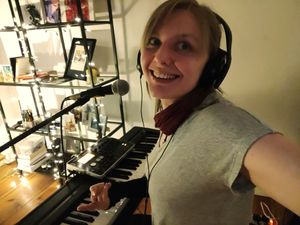 Somewhat to my own surprise, I came up with a song idea. It's called Belong, it's in 7/8 because I hate myself, and it asks some questions about living between a couple of places without feeling like you really belong anywhere. Wha... Excuse me? Where the hell did that come from? I stressed myself out too much trying to get it recorded for the deadline, eventually abandoning the tricky rhythm the original piano line had. It was still converting to wav when the group reconvened, but ultimately I had something to share. I'd hated the whole experience, though. It was claustrophobic, stressful, uncomfortable. This will not be okay at all, I thought. I can't do this. I messaged Rosie privately and asked to drop out.
Narrator's voice: - aaaaaaaaaaaaaaaahhhhhhhhhhhhhhhhhhh
Instead I ended up on a video chat with Rosie & Becci. Both of them went to pains to make me feel like I was part of this group, I was wanted there, and that they would do whatever they could to accommodate me. So I stuck at it. The next day I talked to my collaboration partner, exchanged some free writing ideas, and, struck by the inherent lyricism of her words, pulled another song out of nowhere, which I called Whisper In The Crowd (sneak preview that here). The group reunited for another song share and feedback session: I was struck again by how supportive and warm everyone was, but additionally was delighted to hear a batch of freshly written musical ideas. The creative energy of the group was inspiring in its own right.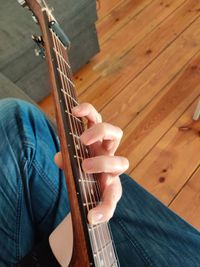 This would continue across the meetups the following day, into the co-writing task we tackled on the Saturday, and into our Sunday sessions & workshop. The pace of the retreat across those four days was pretty intensive, particularly given the state of play in my job at the time and the other commitments I was juggling. But the entire group is designed around gently pushing you in a creative direction while providing a supportive environment in which to explore your writing. The two facilitators have a genuine and tireless passion for what they do, and this shines through in every word, task, and fist pump. 
What did I get out of it?
Was it challenging? Yes, that's why I enrolled! Was it poorly timed for me? Yup. And ultimately worthwhile? Hell yes. I went from wanting to drop out on the first night, believing I'd never be able to write anything while I was so burnt out, to realising I had written:
Belong, a broody cinematic answer to a question I hadn't realised I wanted to ask
Whisper In The Crowd, in which my trip hop is showing
A cover/ reinterpretation of Diamant by Rammstein
If You Try, a co-writing melodic dreampop track created with my writing partner Charlotte 
Undercurrent, an instrumental track idea, created from images in a silent video
A (currently unrecorded) instrumental guitar + beats track, written as an accompaniment to spoken word
The key takeaway here is never to underestimate the importance of environment on creativity. The extent to which simply being allowed the space to be creative affects my output blows my mind a little, every time. These retreats would be worth it for this alone, but music is also increasingly a community thing for me, so checking in with other musicians every day is invaluable. If you're a songwriter of any level, it's worth considering taking part in one of these retreats - you'll be in expert hands with veteran facilitators Becci and Rosie, and you'll surprise yourself with what you can achieve. 
Check out the Songseeds site here for more information!